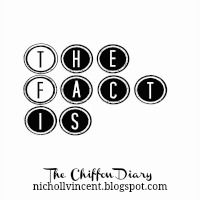 Today I am linking up with Nicholl at The Chiffon Diary. I thought this was the perfect link up since I am not 100% back to reality.
FACT: I am sitting in Panera right now around the corner from my office because our power is out. Wasn't predicting to start the day this way at all, but I am 100% okay with it.
FACT: Yesterday I started my vacation recap post, but got side tracked with yoga and the debates. I know yall are on pins and needles waiting to hear about it ;)
FACT: The easiest meal in the world is grilled chicken Cesar salads. We eat them at least once per week if not twice.
FACT: I love that I can wear T0MS everyday to work. This makes my feet so happy.
FACT: As much as I love politics I am ready for us to elect a president already.
FACT: This months Goop Birchbox was the BEST one I have received yet hands down. The best frivolous $10 I spend per month.
In honor of Taylor's new album. I thought this photo was adorable.