I always love reading these, but always have a hard time thinking of my own. Today obviously there were no issues!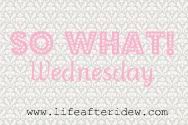 So what
I am so excited it is Wednesday.
Only 2 more mornings I need to wake up until the weekend. YES!
So what
I haven't worked out in a month.
I am no where near ready for the beach but that is why cute cover-ups are made.
So what
we probably aren't going to
Hawaii
.
Plans change and spending an arm and a leg to go on vacation will only cause me to stress when we get back.
Therefore we are only spending what we can afford in Cabo
J
So what
if it drives me crazy when I have more than 30 emails in my inbox at work.
Everything gets filed and color coded.
So what
if I am a horrible cook, I am trying to learn.
Honestly the last thing I want to do when I get home is make dinner.
Sometimes it is bad-really bad.
So what
if I got a little annoyed watching the Gossip Girl finale?
There is no way Serena knew who David O'Russell was and he offered her a job like that.